Japanese Organization, Power Stroke Inc., to Strengthen Japan-India Relations Through Aquatic Disaster Training in Tamil Nadu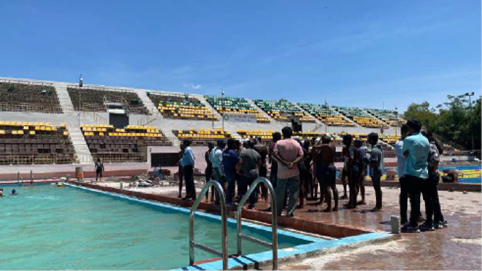 FOR IMMEDIATE RELEASE: September 29, 2023
Raemi Omori Power Stroke Inc.

+81 80 9492 4704

r.omori@tatsuki-sc.jp https://powerstroke.or.jp/
Japanese Organization, Power Stroke Inc., to Strengthen Japan-India Relations Through Aquatic Disaster Training in Tamil Nadu
Breaking Waves: Power Stroke Inc. Unites with Japanese Consulate and Tamil Nadu Sports Authority to Transform Aquatic Safety in Tamil Nadu
"Chennai, September 29, 2023" – Power Stroke Inc., a leading Japanese organization specializing in aquatic safety and training, is proud to announce a significant initiative to enhance aquatic disaster preparedness among swimming coaches in Tamil Nadu. This pioneering event, scheduled for
October 1,
2023, from 10:00 AM to 1:00 PM, has garnered strong support from esteemed partners, including the General Consulate of Japan in Chennai, the Sports Development Authority of Tamil Nadu (SDAT), and a collaborative effort with the Tamil Nadu State Aquatic Association (TNSAA).
Event Details:
Title: Aquatic Disaster Training for TNSAA Registered Coaches
Organizer: Power Stroke, Inc.
Supported by: Consulate-General of Japan in Chennai , Sports Development Authority of Tamil Nadu (SDAT)
Date/Time: Sunday, October 1, 2023, 10:00 AM – 1:00 PM
Location: Aquatic Complex, Velachery Rd., Chennai
Event Schedule:
10:00 AM: Event Begins
Greetings from Kumi Omori, Representative of Power Stroke Inc.
Greetings from H.E. Mr. Masayuki Taga, Consul General of Japan in Chennai
Greetings from Mr. Reddy IAS, CEO of SDAT
10:10 AM: Table-top Lecture: "On-Land Aquatic Disaster Training" (Approximately 1 hour)
Explanation of the mechanism of drowning and the characteristics of different bodies of water.
Insight into the specific characteristics of drowning in children.
Explanation of actions to take when confronted with someone drowning.
11:20 AM: In-Water Session – The Kunren Program (Approximately 1 hour)

Participants will experience swimming in the water with clothes on.
Learning what to do in a water accident is based on the "Float and Wait" method.
Practicing the actions to take when finding a drowning person.
12:30 PM: Certificate of Completion (Approximately 30 minutes)
Participants will receive a certificate of completion from Power Stroke after completing the On-Land and In-Water Aquatic Disaster Training.
1:00 PM: Event Concludes (3 hours total)
The Critical Importance of Aquatic Disaster Training in India:
India is confronted with a pressing need for comprehensive aquatic disaster training driven by alarming statistics and inherent geographical vulnerabilities.

Research by the Organisation for Economic Co-operation and Development (OECD) in 2022 indicates that nearly two-thirds of the Indian population aged 15 and above lack basic swimming skills.

Furthermore, data from the World Health Organization (WHO) reveals that drowning accounts for nearly 50,000 deaths in India annually, ranking as the third most frequent cause of accidental deaths, comprising approximately 9.1% of such incidents, according to the National Crime Records
Bureau under the Ministry of Home Affairs.

Despite these stark figures, India currently lacks robust protocols and widespread awareness campaigns to mitigate drowning risks and address aquatic disasters effectively.
Chennai, the chosen training location, is a particularly vulnerable area. Located in a geologically sensitive region, Chennai experiences frequent aquatic disasters, including tsunamis and floods, due to its proximity to the Indo-Australian and Eurasian Plates, causing seismic activity.

This unique geographical position underscores the critical importance of empowering individuals and communities in Chennai with the knowledge and skills required to respond effectively to aquatic emergencies. The collaborative efforts of Power Stroke Inc., the General Consulate of Japan
in Chennai, the Sports
Development Authority of Tamil Nadu (SDAT), and the Tamil Nadu State Aquatic Association (TNSAA) reflect a shared commitment to addressing these challenges and creating a safer environment for water-related activities while saving lives. This initiative also signifies a significant step
toward fostering stronger Japan-India relations, promoting cultural exchange, and enhancing cooperation between the two nations in the realm of aquatic safety.
*Attendance at this event is free of charge for registered participants. For media inquiries and further information, please contact:
Raemi Omori
+81 80 9492 4704 (WhatsApp Available) r.omori@tatsuki-sc.jp / raemi.omori@gmail.com
About Power Stroke Inc.:
Power Stroke Inc. is an organization based in Aichi, Japan, that works on spreading aquatic disaster training and knowledge. Its parent company, Okazaki Tatsuki Swimming School, has a history of over 50 years teaching swimming to children in the local area. Aquatic disaster
training was part of their original curriculum, which has been running for over 30 years.

Power Stroke became an independent body to focus on this aquatic disaster program to be shared worldwide.

Power Stroke has not only conducted training at the local kindergartens, elementary schools, and vocational schools, but it has also offered training to companies and institutions such as The Bank of Nagoya and Sohgo Security Services Co., Ltd. (ALSOK).

Power Stroke has successfully administered international projects in countries such as United States, Singapore, and Zimbabwe.
Back Page